Mon, 28 December 2015
The Most Common Limiting Beliefs When Changing Careers
"You can't do what you want to be doing and get paid for it." "I need to find my passion first." "Stuff that comes easy can't be valuable." "I've seen other people have success with that, but it would never work for me."
What mental barriers are you carrying around with you? You may be aware of some of them. Some of them might be buried a little deeper. We run through a handful of the most common limiting beliefs we've seen in our work. We break each one of them down and give you the tools to arm yourself against them when they show up on your journey to finding the work you'll love! For access to our 9-episode "What Fits You" series, visit whatfitsyou.co!
---
Mon, 21 December 2015
What's Holding You Back From Changing Careers-Get UnStuck with These 5 Strategies
Are you stuck? You know you want to move to either a new job or an entirely new career or maybe even to start your own business, but you can't see a way to make it happen? You know what you want but you just can't get there. What's holding you back? We walk through 5 of the most common barriers that most people come up against when they're trying to make a career change and we give you clear, actionable strategies for moving past each and every one of them. It's time to push the obstacles out of the way and make the move to work you'll love! Want help finding the work that fits YOUR unique strengths and skills? Enroll in our free 8-day course at figureitout.co!
---
Mon, 14 December 2015
Career Options for Working Abroad with Matt Williams
If you've got a travel bug and would love to know how you can build a career around it, this is the episode for you! Even if you don't have travel fever, you'll still get a lot out of our interview with Matt Williams. At each juncture in his career, Matt followed the path that most excited him. Early on, he admits it was more like leaping first, sorting out the details later. But, as he's grown older, he's been able to continue making the career moves that excite him, but with careful planning first. Matt has co-founded Brain Gain, a "vehicle for undergraduates and graduates to find career relevant positions abroad in startups and social enterprises in emerging economies." Matt shows us that if you want something badly enough, there's ALWAYS a way to get there! For help finding the career that fits you, enroll in our free 8-day course at figureitout.co!
---
Mon, 7 December 2015
Multi-talented, Multi-passionate, Multipotentialites with Emilie Wapnick
Does the idea of having just "one true calling" seem a little too limited for you? Do you find yourself being drawn to a variety of different career options? You might be a multipotentialite! In her last year of law school, when she decided that she didn't want to become a lawyer, Emilie Wapnick began studying entrepreneurship. Frustrated by her own inability to settle on a single "calling", she founded Puttylike.com as an online resource and community for multipotentialites like herself. She believes that multipotentialites have the responsibility to innovate and may even hold the key to solving some of the world's biggest problems. She's even delivered a TED talk on the subject! For help identifying your strengths, skills, and potential, and to learn how to turn it all into work you'll love, visit http://happentoyourcareer.com/figureitout!
---
Mon, 30 November 2015
How to Live a Life Built Around You with Dan Norris
How would more success or more money change your life? Would you buy a better car? A nicer house? Live by the beach? Dan Norris tells us that life hasn't changed very much at all for him following the success of his company WP Curve, one of the world's fastest growing WordPress support providers. And it's by design. When you know what you want in your life it becomes possible to build your life around you! Dan's written two books, The 7 Day Startup, which became a Top 10 Bestseller in 3 Amazon categories, and now Content Machine which is all about creating a 7-figure content strategy and scaling it through automation, delegation, and a content team. For help finding the work that fits you, sign up for our free 8-day course at http://happentoyourcareer.com/figureitout!
---
Mon, 23 November 2015
Strategies for Being More Productive with Mike Vardy
Wish you were more productive? Mike Vardy's got some really helpful strategies for maximizing the 24 hours we all get each day. Mike is a thought leader in productivity. He's an author, speaker, and founder and President of Productivityist.com, a company that helps people stop "doing productivity" and start "being productive" through online and offline channels. Before founding Productivityist, he was the managing editor of Lifehack's productivity blog. Learn what you can do to clear your mind and maximize focus. Find out how you can reduce the number of brainpower-depleting decisions you make daily and free your mind up for what really matters. And see how harnessing the power of routines can help you best serve your goals…because "time is the only resource you don't get back." For help finding the work that fits you, enroll in our free 8-day course at http://happentoyourcareer.com/figureitout!
---
Mon, 16 November 2015
The 100th Episode!
We're celebrating 100 episodes of Happen to Your Career, the show that brings you inspiration to make the move to a career or business you love and equips you with the tools and roadmaps to make it happen! First and foremost, we want to thank YOU for being here on this journey with us! You are WHY we do what we do! So, please grab a warm beverage, settle in and join us as we walk back through the evolution of the show and the business! Get an inside look at HTYC behind-the-scenes and hear firsthand what it takes to make a dream Happen! For help finding the work that fits you, enroll in our free 8-day course at http://happentoyourcareer.com/figureitout!
---
Mon, 9 November 2015
Working within Your Strengths and Zones of Genius with Micha Mikailian
What would life be like if you were working from your unique strengths and talents most of the time? What could you accomplish?
Micha Mikailian has been an entrepreneur since the age of 15! From starting the first online Yellow Pages as a teen to his latest company Intently, he's learned his unique areas of talent and skill and seen a high correlation between the successes of his businesses, his own fulfillment and career satisfaction, and the amount of time he's able to spend in his "zones of genius."
For help identifying YOUR zones of genius, enroll in our FREE 8-day course at http://happentoyourcareer.com/figureitout!
---
Mon, 2 November 2015
Investing in Yourself By Hiring a Coach with Wendy Nolin
Do you want to level up your performance in some area of life? Have you ever hired a coach? Are you considering hiring one? If not, this interview may change your mind. Coaches are like the hand on the back of your bicycle seat when you're just starting to learn how to ride, guiding you along while you pedal and build your skills and your confidence, until you're ready to ride off on your own. Whether you want to improve in some area of your life, your business, or your career, or if you just want to pick up a new skill, coaching provides a powerful and effective way of getting to your desired outcome MUCH faster. Wendy Nolin is a firm believer in the power of investing in yourself. She is a self-described "professional ass-kicker" and "agent of change" who was able to get unstuck in her own career through working with a coach and now she coaches executives and business owners, helping them to achieve their highest potential. For help getting unstuck and finding the work you'll love, you can get our free 8-day course at http://happentoyourcareer.com/figureitout!
---
Mon, 26 October 2015
Turn Your Personal Quirks Into High Value Assets with Danielle Watson
So, what happens when you finish up your education and step out into the world ready to start a career as an anthropologist, only to find…you actually don't like digging in the dirt? Well, if you're entrepreneur Danielle Watson, you take your background in cultural anthropology, linguistic anthropology, and archaeology, and turn it into a one-of-a-kind coaching business! The Purse Process is Danielle's unique approach to getting to the core of what her clients truly value and helping them to "turn their personal quirks into high-value professional assets." Proof that what makes you stand out, what makes you different, even weird, may very well be what leads you to success! For tools and guidance to help you find the work you love, get our FREE 8-day "Figure it Out" course at http://happentoyourcareer.com/figureitout!
---
Mon, 19 October 2015
Living Successfully and Finding Significance with Aaron Walker
So, what does success look like for you? Will you know when you've reached it? What will you do afterwards?
Aaron Walker has attained tremendous success by all measures. He has built and sold some of the most successful businesses in the Nashville area. But he was looking for something more and when friends Dave Ramsey and Dan Miller coaxed him into speaking and coaching, he knew he'd found it. He'd found significance. Aaron shares his journey with us and shows us that attaining success is not the end goal and that happiness is a choice. For help finding the work that brings you meaning, enroll in our FREE 8-day course at http://happentoyourcareer.com/figureitout!
---
Mon, 12 October 2015
Expect Success and Attain More with Jesse Tevelow
Failure happens. The common wisdom these days seems to be just to build it into the plan from the start. Make 50 sales calls, expecting 49 No's to get to the 1 Yes. Right? Well, how different might things be if we just expected success instead? Jesse Tevelow is the author of The Connection Algorithm: Take Risks, Defy the Status Quo, and Live Your Passions. He makes the case that expecting success from the get go, being prepared for failure (but not planning FOR it), can actually push us further, make us work harder, and attain way more than we'd ever imagined! For help finding the work you're passionate about, enroll in our FREE 8-day course at http://happentoyourcareer.com/figureitout!
---
Mon, 5 October 2015
Learning to Play the Right Role for Every Situation with Michael Port
Interviews, public speaking, sales pitches - these can be intimidating. Most people don't really look forward to them. That's a given. But, would it help if you had a proven strategy for summoning the confidence you know you need to get the results you want? Michael Port is the author of Book Yourself Solid, Beyond Book Yourself Solid, Book Yourself Solid Illustrated, The Contrarian Effect, and The Think Big Manifesto and has been called an "uncommonly honest author" by the Boston Globe. His latest book, Steal the Show: From Speeches to Job Interviews to Deal-Closing Pitches, How to Guarantee a Standing Ovation for All the Performances in Your Life, is all about learning to play the right role for every situation, motivating, informing, and persuading others, just by being yourself! If "All the world is a stage", why not write your own part? For tools and exercises to help you find the work you were meant to do, enroll in our FREE 8-day "Figure it Out" course at http://happentoyourcareer.com/figureitout!
---
Mon, 28 September 2015
Incremental Bravery: Taking Small Calculated Risks to Move Towards Your Goals with Grant Baldwin
Grant Baldwin is the host of the How Did You Get into That? Podcast, featuring interviews with people from all walks of life doing the work they love! Getting to work you love doesn't usually come without some measure of bravery. Grant shares a concept called "incremental bravery" with us. Incremental bravery essentially boils down to taking small, calculated risks moving toward a much bigger goal or vision. Grant quit a stable job while his wife was 5 months pregnant with their first child - with no plan! After months of self discovery he decided to pursue a career as a speaker and step-by-step built his business. Wherever you want to go, you CAN get there from here! For help finding the work that YOU love, enroll in our free 8-day course at http://happentoyourcareer.com/figureitout!
---
Mon, 31 August 2015
How to Keep a Hunger for Learning New Things with Steve Kurti
"We are born with the desire to learn more and somehow if it disappears, it's because something in our life has beat it down." Steve Kurti is a physicist, inventor (or "tinkerer" as he refers to himself), and educator who believes that we need to instill a hunger for learning in our kids and find ways to reconnect with it as adults. Learning to learn is one of the most rewarding and valuable gifts we can have and it might just be the key to finding fulfillment. For help finding the work that fulfills YOU, sign up for our FREE 8-day course at http://happentoyourcareer.com/figureitout
---
Mon, 10 August 2015
Recovering from Burnout and Managing Stress
Burnout is not a joke. Paula Davis-Laack is a self-described "recovering lawyer" whose own personal experiences with burnout landed her in the hospital 3 times. Now a burnout and resilience expert and founder and CEO of the Davis-Laack Stress and Resilience Institute she is dedicated to helping professionals manage stress and prevent burnout. She is an internationally-published author and has even worked with soldiers in the US Army as part of the Army's Comprehensive Soldier and Family Fitness Program. For help finding the work that fits you, enroll in our free 8-day course at figureitout.co!
---
Mon, 3 August 2015
How to Improve Your Public Speaking with David Nihill
Public speaking is one of the top fears, if not the number one fear most people face. In more severe cases it can cause people to avoid situations that might help them move their careers forward. David Nihill wants to help us all get over this fear and become better public speakers and storytellers. He was born in Dublin (and claims no one here in the U.S. understands his accent!). He earned a Masters in Business and began working with the Irish government to help startups. He's been working with startups ever since, though now it's through his FunnyBizz Conference series where he uses a comedic approach to help content creators leverage the power of storytelling, comedy, and improv! For help finding the career that fits you, visit figureitout.co and register for our free 8-day course!
---
Mon, 27 July 2015
Self-Discovery: Know Your Strengths with Kirby Verceles
Have you ever worried about losing your job? Even if it was a job that was making you unhappy? Kirby Verceles went through some wild ups and downs when the small company she worked for was in the process of being acquired. The soul-searching that she immersed herself in at that time gave her the answers and direction she needed and she came out on the other side with a position so suited for her it almost seems as if it were created for her! Kirby shares her process of self discovery and reminds us that no matter how stressful things can get, if you keep your core strengths in sight, you will come out ahead! For help finding work that fits you, enroll in our FREE 8-day course at figureitout.co!
---
Mon, 20 July 2015
Deciding What's Important to You In Life & Career with Cachet Prescott
Starting with your "why" is a game changer. It keeps you aligned with your values, what's important in your life, and where you want to go. Cachet Prescott is a career strategist, workplace trainer, and resume writer (aka "career storyteller"). With her business, Career Cachet she empowers women to "listen to their lives" and to become intentional about the next stages in their careers, whether in the workforce or as entrepreneurs. She reminds us that having a career that fits around our life IS possible and shows us how to get it! For helping finding the career that fits you, enroll in our free 8-day course at figureitout.co!
---
Mon, 13 July 2015
Understanding Your Worth, Stop Sabotaging Yourself with Crystal Batya Marsh
Are you being paid what you're worth? Raise your hand if you're not. Join the club, right? Wrong. Chances are you don't realize how you've been sabotaging yourself. Crystal Marsh says it's all about mindset. She unofficially played the part of "life coach" to friends and family for most of her life. As a lawyer she once talked a divorce client out of getting a divorce! She says she may have "talked her way out of a client, but into [her] purpose" in that moment. Clearly, the coach in her was as strong as the logic-minded, rational attorney! Crystal talks to us about the power of understanding your worth and then making that visible. She walks us through her super-charged interviewing process and impressive salary negotiation techniques! For help finding the work that fits YOU, sign up for our FREE 8-day course at figureitout.co!
---
Mon, 6 July 2015
Speaking Up and Sharing Ideas at Work with Matt Kincaid
Why don't we speak up more often at work? Or in our day-to-day lives when we have something to say? What holds us back? What can we do about it? Whose responsibility is it to make sure we feel safe sharing our ideas? Matt Kincaid is the co-author of the new book, Say Anything: How Leaders Inspire Ideas, Cultivate Candor, and Forge Fearless Cultures. He shows us exactly how to identify what is holding us back, how to move past it, and more importantly how we can create environments where ideas and opinions are respected and innovation thrives! For helping finding the work that fits your unique skills and abilities, grab our FREE 8-day course at figureitout.co!
---
Mon, 29 June 2015
Common Barriers Preventing you from Figuring Out What You Want
Ok. Let's talk. Today we're digging deep into what's REALLY stopping you from finding what you want in your career. Have you taken jobs because they were available? Have you started a job thinking it would be something that it turned out not to be? Are you stuck trying to decide what to do next? Trouble is, most people think finding work that fits them starts with looking forward. We think it starts with looking backwards. Most people will work their entire careers without ever truly figuring out what makes them happy. We don't want you to be most people. We'll lay out the most common barriers to figuring out what you REALLY want and show you how to break through them! Grab our FREE 8-day course at figureitout.co!
---
Mon, 22 June 2015
Lessons Learned from a Serial Entrepreneur with Andrea Lake
Thinking about starting a business? You don't want to miss this interview then! Andrea Lake is what you'd call a serious serial entrepreneur. She's founded over 14 businesses since the age of 18, some of which include StickerJunkie.com, YogaJunkie, and Delinquent Distribution (the company that owns sales rights to merchandise for some of the world's biggest video games...think Minecraft and World of Warcraft!). Now, she's focusing on training and mentoring others to build their own successful businesses through MentorMojo, an online learning and mentorship platform and Lessons.biz, a 6-week training course on how to start a t-shirt business! She walks us through her journey to success and leaves us with some of the most valuable business advice you'll ever receive this side of an MBA! Need help finding the work that fits you? Enroll in our FREE 8-day course at figureitout.co!
---
Mon, 15 June 2015
The End of Jobs with Taylor Pearson
Work as we know it is changing, whether we like it or not. Are you prepared? Taylor Pearson is a "systems-obsessed entrepreneur, marketer, and philosopher" with a passion for helping other entrepreneurs. He's worked on the Tropical MBA podcast, done community management for the Dynamite Circle, a top mastermind forum for location-independent entrepreneurs, and managed marketing and sales for 7-figure ecommerce businesses. He talks to us about the shifting landscape of the job market and gives valuable insights into how we can best prepare ourselves for success now and into the future. His book The End of Jobs: How A Section of the Middle Class Getting Rich is coming out on June 30th! Are you looking to make a career change, but don't know where to start? Enroll in our FREE 8-day course at figureitout.co!
---
Mon, 8 June 2015
Becoming Debt-Free and the Freedom It Gives You in Your Career
Think your finances don't have much of an impact on your career? Well, we challenge you to rethink that. When you're in debt your decisions often come down to what you NEED to do, rather than what you'd like to do. Becoming debt-free gives you back your freedom in ways that you may not even fully be able to anticipate. To help get you inspired to take action today, we've got Scott and Alyssa's Dave Ramsey Show official "debt-free scream" right here! For tools and guidance on finding YOUR "why's", enroll in our FREE 8-day course at figureitout.co!
---
Mon, 1 June 2015
How to Stand Out on LinkedIn with Al Smith
It's time to update your job search skills! Learn how you can be a standout candidate on platforms like Linkedin and position yourself perfectly for your dream job! Turn your search on its head and have the recruiters find YOU! Al Smith spent 35 years working in sales, management, marketing, and training for Xerox, Kimberly-Clark, and Systema. His new book with co-author Jeff Sheehan is called HIRED! Paths to Employment in the Social Media Era and is available now! Looking to make a career change? Register for our FREE 8-day course at figureitout.co!
---
Mon, 25 May 2015
Finding the Time: Solutions to Help you Reclaim Your Hours When Feeling Overwhelmed
Feeling overwhelmed? Do you always feel like there's just never enough time to get to everything you want or need to do? Is a lack of time holding you back? Well, we're breaking down some of the most common myths around lack of time! We've also got some practical solutions that will help you reclaim some of your precious hours! The only question now is, what are YOU going to do with all of this newly found time? Want clarity on identifying what's important to you? Visit figureitout.co for instant access to our FREE 8-day course!
---
Mon, 18 May 2015
Using Fear to Live a Life of Purpose with Greg Faxon
Before becoming a personal coach, Greg Faxon worked with Fortune 500 companies on refining their market research and strategy. Now he helps "high-performing" and "high-potential" entrepreneurs to live deliberately and grow their businesses to make an impact.
Greg gives us some powerful insights about fear, specifically how it can be an indication that you are on the right path. He believes that we can use our fear to push ourselves past where we currently are and toward living a life "on purpose." For help uncovering your purpose and making the move to work you'll love, visit figureitout.co!
---
Mon, 11 May 2015
The Most Effective Approach to Making a Career Change: Figuring Out What Fits!
This is the Figure Out What Fits Workshop episode! Do you have a good or even great job but you can't see yourself doing the same thing forever? Or maybe you hate your job and can't wait to get out of it, but you're not sure what you want to do for your career or business? Maybe you're not sure where to begin, have too many passions, or maybe you just want the most effective approach to making a career change? If ANY of these applies to you, do NOT miss this episode! Then visit figureitout.co to get our FREE 8-day "Figure it Out" course!
---
Mon, 4 May 2015
Being Authentic in Your Career with Greg Giagrande
Greg Giangrande has been called "one of the most highly-regarded executives in his field" by Adweek. As Executive VP and Chief Human Resources Officer for Time Inc. he oversees HR globally for 8,000 employees. He's held executive level HR positions at News Corporation, The Hearst Corporation and HR leadership positions at Conde Nast and Random House. He writes a weekly advice column for the NY Post and makes appearances on Good Day NY.
He's also called the shots in his career, accepting only positions aligned with what he calls his "True North".
For help finding the work that fits you, visit figureitout.co!
---
Mon, 27 April 2015
Being Proactive and Building Relationships with Olivia Gamber
Olivia Gamber has climbed up the corporate ladder quickly and at a super-young age, is now the Manager of Talent and Organizational Development at Taylor Morrison. She tackled her post-graduation career uncertainty in a way that set her apart from the rest of the pack. She launched her impressive career through the process of self-discovery and intentional action and now she's helping her Gen Y peers to do the same through OccupationalOlivia.com. For help clearing the uncertainty and finding the work that fits you, visit figureitout.co!
---
Mon, 20 April 2015
Quitting and Discovering the Work You Were Meant To Do with Dr. Lynn Marie Morski
Think quitters never get ahead? Think again. Quitting just might be one of your best tools in discovering the work you were meant to do! Lynn Marie Morski is a "self-described hippie" who gushes about the Burning Man Festival and has quit just about every career she's started. She's also a doctor/lawyer powerhouse with a multimedia background who has co-founded a medical tourism startup that is working to revolutionize our healthcare system. Visit figureitout.co for help finding the work YOU were meant to do!
---
Wed, 15 April 2015
Fear of Failure in Career Transitions with Doc Kennedy
Fear of failure cripples. It keeps you from taking action on the things you know can lead you to realizing your dreams and your potential. Doc Kennedy let the fear paralyze him for a long time. But, after a volunteer position gave him the skills and the confidence he needed and his dream of becoming a filmmaker started to look like a reality, he decided to go all in! For help figuring out YOUR dream career, visit figureitout.co!
---
Mon, 6 April 2015
Finding Your Unique Talents and Living Your Purpose with Matt Shoup
Positive. Passionate. Powerful. Purpose. Identify your "flag" then go Plant it! Everyone has their own unique gift, talent, and benefit that they bring to the world. Wrap your mind, your heart, your soul, everything about you around that, then build on it! Matt Shoup is back for the THIRD time on the show. His latest book, Plant Your Flag: The Warrior's Battle Guide to Life, Love, and Leadership is due out in early July. For tools and guidance in finding YOUR "flag", visit figureitout.co!
---
Mon, 30 March 2015
Career Q & A Episode!
You asked. We answer! Scott tackles questions from HTYC'ers this week! Can't choose between two career paths? Stuck in a job that's just not working for you? Don't even know how to start figuring out the work you'll love? For inspiration AND actionable steps on how to clear the hurdles and move towards work that fits you, you won't want to miss this! Want to get started right now? Grab a pen and work through the Past Jobs Exercise with us and see how your past experiences leave clues for your future career! For more free tools and exercises, visit figureitout.co!
---
Mon, 23 March 2015
How to Find a Mentor with Geoff Woods
Geoff Woods was in a job he loved and making good money, when a young colleague had a stroke. Deeply affected by this, he recognized he needed to create additional income streams to secure his own family's future. He began to seek out mentorships with the people who had attained what he wanted for himself. Host of the Mentee Podcast, Geoff shows us the step-by-step process for creating the relationships that we need to get us where we want to go!
Want help finding the work you'll love? Get our FREE 8-day course at figureitout.co!
---
Mon, 16 March 2015
Finding Your Calling with Jeff Goins, Author of The Art of Work
What does dating have to do with careers? As it turns out, a LOT actually. Jeff Goins, author of the new book The Art of Work, talks with us about power of commitment in finding, following , and succeeding in your "calling", that thing you were born to do! Give this interview a listen and stop the endless string of "bad dates"!
For help finding YOUR calling, grab our free course at happentoyourcareer.com/onestop!
---
Mon, 9 March 2015
Turning Your Passion into a Dream Job with Mark McClung
If you're at all interested in turning your passion into your dream job, you'll definitely want to listen to this! Mark McClung is a man with marketing and entrepreneurship in his veins. In high school he was active with DECA, an international organization that develops emerging leaders in business. From a young age, he had his sights set on attaining a high-level marketing position, and through persistence and leveraging skills gained from his "Passion Projects", he turned his dream to reality!
Ready to turn YOUR passion into a career? Get our FREE Work You Love: One Stop course!
---
Mon, 2 March 2015
Taking Risks in Your Life and Career with Lee Cockerell
Talk about making things happen! As Executive Vice President of Operations for the Walt Disney World Resorts, Lee Cockerell oversaw 20 resort hotels, 4 theme parks, 2 water parks, and a lot more! He created Disney Great Leader Strategies, which has now trained 7,000 leaders! Now, he's turned his focus to speaking and writing on leadership. His latest book is called Time-Management Magic. Get a dose of leadership wisdom on Lee's podcast, Creating Disney Magic: Lessons in Leadership, Management, and Customer Service!
Get our FREE 8-day course and uncover the work you'll love!
---
Mon, 23 February 2015
Explaining your Career Transitions with Chris Wilson
Self-described as "the hardest working quitter you'll ever meet", Chris Wilson dropped out of college to pursue professional cycling, worked summers at his family's B&B on Cape Cod, earned his way into an online ad agency by impressing the CEO, moved into sales at Hubspot, then at Nanigans, and is now officially self-employed working on UnStuckable with friend and co-founder Stephen Warley. UnStuckable is the show that brings you "knowledge, habits, and skills to get unstuck in your career and in life".
To get our FREE Work You Love: One Stop Intro Course text "HTYC" to 38470!
---
Mon, 16 February 2015
How to Approach your Career with a Scientific Mind with Adarsh Pandit from The Reboot
Scientist-turned-management-consultant-turned-developer, Adarsh Pandit is definitely no stranger to career changes! Right now he's the Managing Director at thoughtbot, a company that designs and builds digital products. He specializes in Ruby on Rails, hosts the Reboot podcast, the show that spotlights people who've made BIG career transitions…OH! And he's got a PhD in Biochemistry too! You'll learn how to approach your career path with a scientific mind!
For help discovering the career that fits you TEXT "HTYC" to 38470 and get a link to our FREE 8-day course!
---
Mon, 9 February 2015
How to Start a Side Hustle
So you, our listeners, have spoken! You want to learn more about starting a side business. A lot of you are already in careers you're planning to stay in, but want to build something on the side, either for additional income or for the challenge and satisfaction that comes with owning your own business! We couldn't be more excited to share our journey, what we now know, AND what we've learned along the way building Happen to Your Career!
---
Mon, 2 February 2015
The Key to Selling Yourself with Jenny Foss
She's a Career Consultant/Resume Writer/Entrepreneur/Social Media Strategist/Blogger, helping people advance their careers through defining and communicating their personal brands effectively for over 4 years now with JobJenny, all while running her firm, the Oregon-based Ladder Recruiting Group which specializes in the robotics/automation and manufacturing sectors.
She's also a regular columnist on theMuse.com, knows a lot about robots, and makes a mean margarita!
---
Mon, 26 January 2015
Identify What You Really Want In Your Career- a Mini-Workshop!
Most people will never take the time to really identify what they want.
Take a listen to this workshop so that you can!
---
Sun, 18 January 2015
How to Grow Your Network without Feeling Icky with Mark Sieverkropp
Mark is a man who needs no introduction on this show, not only is he one of the cofounders of Happen to Your Career, he is an amazing networker. This guy gets chocolate sauce and free samples of just about anything you can name shipped to his door of no cost to him (seriously, not joking, that's how good at building relationships he is)
He left HTYC months ago to work on his own platform and help people work on building amazing relationships, but he's back on the show to talk to us about not only what he has going on but to share some amazing networking tips!
In this episode you'll learn
How to reach out to people in your current network if you are just beginning a business OR trying to get a new job (without the awkwardness)

Why you have a much larger network than you think you do (and who those people are)

How to network with purpose (instead of randomly)
links mentioned in the episode
Episode 6 of the HTYC podcast Matt McWilliams
Networking with Purpose LIVE Mark's massive networking event for those people that want to start businesses or network themselves to the jobs they really want
Click here to find out more about it! http://happentoyourcareer.com/NetworkingLive
How to Network it up with Mark
Sieverkropp.com Mark's website and home base
@SKropp2 Mark on Twitter (this guy is a twitter machine!)
---
Mon, 12 January 2015
How to Choose the Right Niche Business For You with Stephanie O'Brien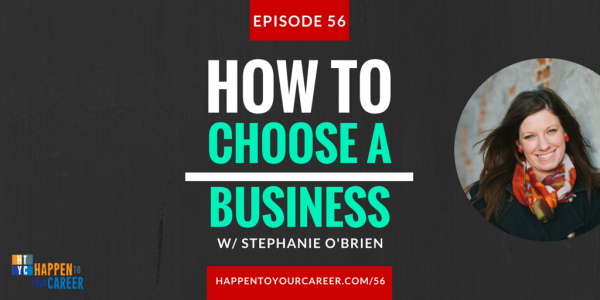 She kicked off her career as a Social Worker in Detroit. After a few years, burned out, and with over $50,000 in student loan debt, she switched gears, turning inward to discover her strengths, talents, and passions through some serious self-reflection. She made a commitment to herself, developed a plan of action, and created the career of her dreams, coaching others to achieve lives of abundance and fulfillment. She's been mentored by Dan Miller and is a certified coach in the Coaching Mastery Program with 48 days. As a career and life coach and host of the Moved By Purpose Podcast she's all about helping others find their purpose in life and applying that purpose daily in meaningful life work! Also…crunchy cookie butter!
Want to Figure out your own business Click here for our free 8 day course
---
Mon, 5 January 2015
3 Reasons Why People Can't Figure Out What they Want to Do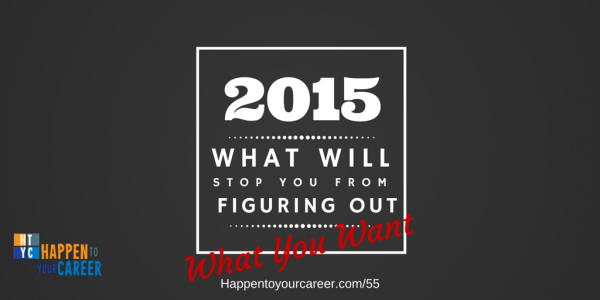 Most people won't ever figure out what makes them happy and what they want in their career.
I don't want you to be most people.
Here are three all-to-common reasons why people don't figure out what they want... and some things you can do right now to make a change.
In this episode you will learn:
Why you should commit to something even if it's not perfect (... and why it's still committing even if it's temporary)
Specific questions to ask yourself to understand what can make you happy in your career
Ways to determine something you are truly excited about
Links and Resources in this episode
Episode 26 What are your strengths- Part 1
Episode 27 What are your strengths- Part 2
Episode 28 What You Want... It's NOT what you think!
Episode 29 Do you know what YOU want in life?
Episode 31 Matching Opportunities with Wants
Episode 32 Make a Decision Already!
Also our FREE 8 day course that helps you figure out what you want and sets you up to make a decision! CLICK HERE TO FIND OUT MORE
---