Mon, 17 November 2014
The Story Behind Happen to Your Career Jody Maberry
Ever wanted to know the story behind Happen to Your Career and how it was founded?
Jody Maberry from the Park Leaders Show and Maberica LLC is co hosting on the show to help provide the behind the scenes story of Happen to Your Career. Jody is a story telling expert and fan and there is no better person to help HTYC with making sure that our site and brand are dripping with not just our story, but as Jody points out in the episode, helping our Customers understand how they fit in to the fabric of the HTYC story.
He tells a couple good ones himself (just to show off a bit ;)) and you can hear it all right here or on iTunes or Stitcher
DO YOU WANT TO FIGURE OUT WHAT YOU SHOULD BE DOING FOR A CAREER?
Visit http://happentoyourcareer.com/onestop and sign up for our free course that helps you figure out what you want for your career!
---
Mon, 10 November 2014
How to Get Started and Act Now in Changing Your Career
One of the most difficult things to do for a career change is to get started. Once you begin and start taking action over and over again, you will be surprised at the results you get
In this episode you will learn
How you can get started
why you need to act now
the psycology of being in motion
and how we applied the Toby Keith principle to our podcast at first (I know... you will have to listen to find out)
Find out more at http://happentoyourcareer.com
****Do you work in a job that you don't want to be in forever? Do you want to do work that is un-apologetically you?
We have put together a course that helps you figure out what work you love is for YOU
Visit http://happentoyourcareer.com/onestop and tell us where to send the first lesson
---
Sun, 2 November 2014
How to Find More Time and Make Decisions to Support Your Career Goals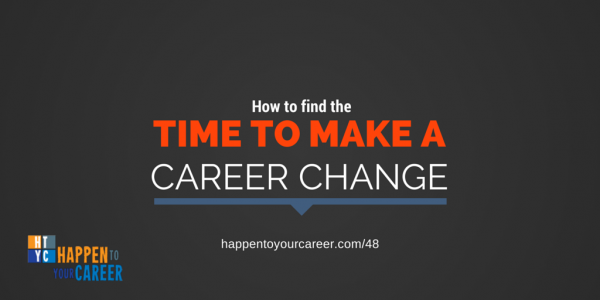 Making a career change can feel like a full time job in itself.
This is part of the reason many people just don't ever do it. They know they are not happy with what their doing but changing careers is hard and they don't want to give up on even one night of the voice.
So it never happens for them.
In this episode of the Happen to Your Career Podcast we share with you several ways that you can find the time to be able to make your career change happen!
In this episode you will learn:
Why prioritizing gives you more time
How you can find your why (and why it's important)
How to track where you are spending your time (using apps that do it for you automatically)
Links and Resources mentioned in this episode
Free Intro Course that helps you "Figure out what you want to do" for your career
RescueTime - The google chrome plugin that tracks where you spend your time on the internet
Daily Decisions - Marks Talk and YouTube video that dives into how to find more time and make decisions that support your goals


---