Thu, 11 December 2014
Does a Higher Paying Job Mean More Happiness? With Andy Hayes @plumdeluxe
Owner of a business called plumdeluxe.com, liver of the good life, Tweeter of ridiculously delicious looking meals. Fan of both craft beer and vinegar (not necessarily together). He also appears to have an infatuation with tea that I want to dig into. Most importantly, He has built an amazing career over the last 15 years. Heiling from Portland Oregon we welcome Andy Hayes to Happen to Your Career!
Andy tells his story of making a jump to a lower paying job, not once but 3 times! Every time dropping in pay but upping his happiness. He eventually started his own business taking his skills from his past career and applying them to what he was really interested.
In this episode you will learn:
Whether or Not You have to make less money to enjoy your job
How you can avoid wandering from job to job
How to lay it all out, when you are faced with a difficult career decision
Plus Andy tells us about his love of tea and Scott asks him for some recommendations!
Links Andy Talks about
Plumdeluxe.com Andy's business that helps you make moments matter
Twitter Reach out and thank andy for being on the show!
Are you struggling figuring out what you want in your career? Learn about our FREE 8 day course that helps you avoid spending the rest of your life going from job to job unhappy. Instead, get unstuck by figuring out what you want and making a decision now. CLICK HERE
---
Sun, 7 December 2014
Career Q&A: Multiple Interviews, Jumping Into a Dream Job, Technical Skills
If you don't know Lisa Cummings, you need to! She is the multi-talented canned vegetable eating, question answering host of the Career Q&A Podcast.
Her background ranges from HR, to talent Management to Training, and much more so that when you ask her a question like... What should I do when I am in waiting mode after interviewing for an internal position... and their not getting back to me?
She delivers that answer and more in this episode/Mashup of the HTYC Meets Career Q&A Podcast!
Learn more about Lisa at PinchYourselfCareers.com or the Career Q&A Podcast on iTunes
Also learn on this episode:
When you have to have 5 or 10 (or even 15) interviews for a particular company, is this good or bad...should you be concerned about the company OR Thrilled that they are taking their time?
If you already have an idea of what your dream job may be should you jump in and go for it (even if you don't have experience) OR Should you get more clarity on it before moving forward?
Why is there so many people out there that believe that technical skills are the key to getting where you want to go?
Are you looking for clarity on your career and what you want? Take our FREE 8 Day course that helps you do exactly that AND come out of it with a decision on what your next career step should be!
Enroll at http://happentoyourcareer.com/onestop
---
Mon, 17 November 2014
The Story Behind Happen to Your Career Jody Maberry
Ever wanted to know the story behind Happen to Your Career and how it was founded?
Jody Maberry from the Park Leaders Show and Maberica LLC is co hosting on the show to help provide the behind the scenes story of Happen to Your Career. Jody is a story telling expert and fan and there is no better person to help HTYC with making sure that our site and brand are dripping with not just our story, but as Jody points out in the episode, helping our Customers understand how they fit in to the fabric of the HTYC story.
He tells a couple good ones himself (just to show off a bit ;)) and you can hear it all right here or on iTunes or Stitcher
DO YOU WANT TO FIGURE OUT WHAT YOU SHOULD BE DOING FOR A CAREER?
Visit http://happentoyourcareer.com/onestop and sign up for our free course that helps you figure out what you want for your career!
---
Mon, 10 November 2014
How to Get Started and Act Now in Changing Your Career
One of the most difficult things to do for a career change is to get started. Once you begin and start taking action over and over again, you will be surprised at the results you get
In this episode you will learn
How you can get started
why you need to act now
the psycology of being in motion
and how we applied the Toby Keith principle to our podcast at first (I know... you will have to listen to find out)
Find out more at http://happentoyourcareer.com
****Do you work in a job that you don't want to be in forever? Do you want to do work that is un-apologetically you?
We have put together a course that helps you figure out what work you love is for YOU
Visit http://happentoyourcareer.com/onestop and tell us where to send the first lesson
---
Sun, 2 November 2014
How to Find More Time and Make Decisions to Support Your Career Goals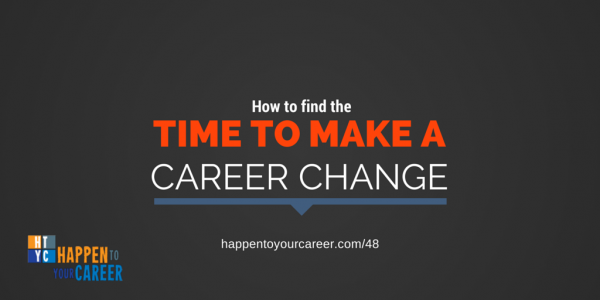 Making a career change can feel like a full time job in itself.
This is part of the reason many people just don't ever do it. They know they are not happy with what their doing but changing careers is hard and they don't want to give up on even one night of the voice.
So it never happens for them.
In this episode of the Happen to Your Career Podcast we share with you several ways that you can find the time to be able to make your career change happen!
In this episode you will learn:
Why prioritizing gives you more time
How you can find your why (and why it's important)
How to track where you are spending your time (using apps that do it for you automatically)
Links and Resources mentioned in this episode
Free Intro Course that helps you "Figure out what you want to do" for your career
RescueTime - The google chrome plugin that tracks where you spend your time on the internet
Daily Decisions - Marks Talk and YouTube video that dives into how to find more time and make decisions that support your goals


---
Mon, 20 October 2014
How Signature Strengths Impact Your Career
Are you wanting to make the move to work that you love and stop doing work that doesn't fit you... guess what? It's not your boss that makes this hard (ok well sometimes) but more than that it's whether or not you understand the things that you enjoy so much that it feels like play.
Scott and Mark discuss signature strengths and how they impact your career.
Find all the links and shownotes at http://happentoyourcareer.com/46
---
Mon, 13 October 2014
Networking Tips That Don't Take a Ton of Time (without going to boring events)
Taking time for networking and building relationships sucks!... well it does if you are not good at it.
What if you could not only get good at it, but do it in less than 20 minutes each day WITHOUT having to go to networking events.
That's what today's podcast episode is all about! Mark discusses with us some very tactical (and actionable) ways you can become a better at networking!
We're all busy. and one of the biggest challenges we all have with networking is time...so here's a few ways to grow your network in 20 min a day (address very briefly…)
In this episode you will learn
LinkedIn Recommendations
Birthday calls/life events
Be a noticer
Quarterly Reach Out Emails
---
Thu, 9 October 2014
Focus on Relationships to Improve Your Career
Our entire lives are defined by our relationships - father/mother, husband/wife, brother/sister, friend, employer/employee, author, speaker, etc.
You have things you want to accomplish and achieve.
If you don't have everything you want in your life...it's because you have not yet found and developed the relationships that will allow you to accomplish those things.
In this episode learn why focus on relationships is not just important but EVERYTHING for your career!
---
Mon, 6 October 2014
How to Know When It's Time to Leave Your Job
Have you ever wondered what the right time is to pursue different work?
Sometimes it's painfully clear! (we work with people every day that have some serious disdain for their jobs)
But what if it's not as obvious? What if you actually like your job and just aren't sure if you should be pursuing something more meaningful... or what if you have multiple opportunities but aren't sure how to measure which one would be better for you.?
This is exactly the question that we just faced just recently when setting out the goals for the rest of this year and into next year!
How do you know when it's time to move on to something else?
This is hard, even for us (and it's kind of what we do here at Happen to Your Career.)
In this episode You learn
When it's past time for you to leave your job or your business
How to know what the warning signs are
What to actually do about it!
---
Wed, 1 October 2014
The Pareto Principle and Why it Matters in Your Career
Do you wonder why you can't get what you want in your career? I'll bet it's because you are not focusing on the 20% of stuff that ACTUALLY MATTERS.
Wondering what I'm talking about? Today's episode talk's about Pareto and what he observed in nature that is critical to your career (and your whole life)
Check out http://happentoyourcareer.com/onestop to find out how to choose work you truly want to be doing!
---