Sun, 18 January 2015
Networking with Purpose with Mark Sieverkropp @skropp2
Mark is a man who needs no introduction on this show, not only is he one of the cofounders of Happen to Your Career, he is an amazing networker. This guy gets chocolate sauce and free samples of just about anything you can name shipped to his door of no cost to him (seriously, not joking, that's how good at building relationships he is)
He left HTYC months ago to work on his own platform and help people work on building amazing relationships, but he's back on the show to talk to us about not only what he has going on but to share some amazing networking tips!
In this episode you'll learn
How to reach out to people in your current network if you are just beginning a business OR trying to get a new job (without the awkwardness)

Why you have a much larger network than you think you do (and who those people are)

How to network with purpose (instead of randomly)
links mentioned in the episode
Episode 6 of the HTYC podcast Matt McWilliams
Networking with Purpose LIVE Mark's massive networking event for those people that want to start businesses or network themselves to the jobs they really want
Click here to find out more about it! http://happentoyourcareer.com/NetworkingLive
How to Network it up with Mark
Sieverkropp.com Mark's website and home base
@SKropp2 Mark on Twitter (this guy is a twitter machine!)
---
Mon, 12 January 2015
Choosing the Right Business for You with Stephanie O'Brien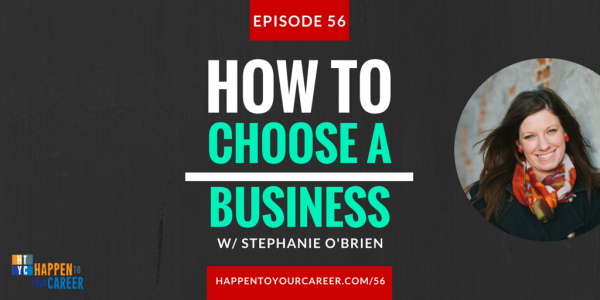 She kicked off her career as a Social Worker in Detroit. After a few years, burned out, and with over $50,000 in student loan debt, she switched gears, turning inward to discover her strengths, talents, and passions through some serious self-reflection. She made a commitment to herself, developed a plan of action, and created the career of her dreams, coaching others to achieve lives of abundance and fulfillment. She's been mentored by Dan Miller and is a certified coach in the Coaching Mastery Program with 48 days. As a career and life coach and host of the Moved By Purpose Podcast she's all about helping others find their purpose in life and applying that purpose daily in meaningful life work! Also…crunchy cookie butter!
Want to Figure out your own business Click here for our free 8 day course
---
Mon, 5 January 2015
Whats Stopping you from figuring out what you want to do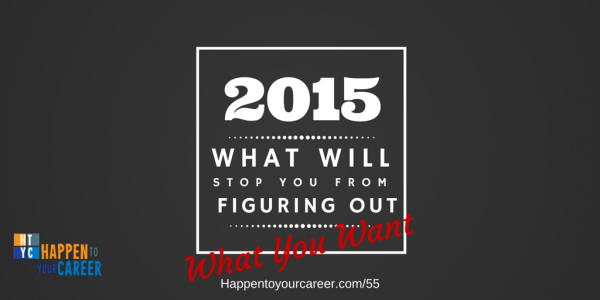 Most people won't ever figure out what makes them happy and what they want in their career.
I don't want you to be most people.
Here are three all-to-common reasons why people don't figure out what they want... and some things you can do right now to make a change.
In this episode you will learn:
Why you should commit to something even if it's not perfect (... and why it's still committing even if it's temporary)
Specific questions to ask yourself to understand what can make you happy in your career
Ways to determine something you are truly excited about
Links and Resources in this episode
Episode 26 What are your strengths- Part 1
Episode 27 What are your strengths- Part 2
Episode 28 What You Want... It's NOT what you think!
Episode 29 Do you know what YOU want in life?
Episode 31 Matching Opportunities with Wants
Episode 32 Make a Decision Already!
Also our FREE 8 day course that helps you figure out what you want and sets you up to make a decision! CLICK HERE TO FIND OUT MORE
---
Mon, 29 December 2014
Revolutionize Your Career with Dr. CK Bray
He spent 15 years in the corporate world honing his expertise around organization development, leadership, and the employee development experience. With CK Bray Consulting and Development, he now specializes in career coaching, planning, and transitions for employees as well as employee motivation, development, and retention for his corporate clients. He is also the host of the Career Revolution with Dr. CK Bray, "A Place to Fix, Change, or Create Your Best Career".
He's a father of six, he's working on inventing a brand new chocolate delicacy, and at some point in the future we just might see him on TV hosting a game show or delivering the evening newscast!
In this episode with Dr. CK Bray you will learn
Why the polar opposite of what you are doing now is unlikely to be your dream job (learn from Dave the Dentist)
What Chris recommends for those wanting to start a career transition
If you are ever thinking of starting your own business, what you should think about first
Links and Resources Mentioned in this episode
Chris's website: http://www.drckbray.com
HTYC 8 day intro course that helps you figure out what you want in your career http://happentoyourcareer.com/onestop
How you can connect with Chris
Facebook: https://www.facebook.com/drckbray
Twitter: https://twitter.com/DrCKBray
YouTube: https://www.youtube.com/user/Drckbray/
Linked In: http://www.linkedin.com/in/drckbray
---
Sun, 21 December 2014
Finding the Hidden Dream Jobs with Scott McDonald
Scott McDonald was in a job where he worked too many hours and he just didn't enjoy after a corporate restructure. Listen to how he quit his job, went on to find a hidden job that he really wanted!
Do you want to figure out what you really should be doing for your career?
visit http:happentoyourcareer.com/onestop for our FREE 8 day course that helps you figure it out step by step!
Go Happen to Your Career!
---
Mon, 15 December 2014
Side Hustle to Career Happiness: Nick Loper
Nick Loper is what I would call an Experimentalist, He's had a couple businesses, really enjoys the hustle and is working slowly on dominating a website called Fiverr.com. With his Steven Leavitt sounding voice (you have to love Freakonomics to get this one) he is rapidly putting out amazing info into the world that helps you make your side hustle very very profitable (and fun!)
Listen to this episode to discover:
How you can try low risk entrepreneurship to make sure it's right for you
How to make money on Fiverr.com
What every person who is considering starting a business on the side needs to consider.
Want to decide what type of career or business is right for you? View the video at http://happentoyourcareer.com/onestop to learn about our FREE 8 day course that helps you figure out what you want!
Learn more about it HERE
You can connect with Nick Loper at SidehustleNation.com
---
Thu, 11 December 2014
Focusing on the Moments that Matter with Andy Hayes @plumdeluxe
Owner of a business called plumdeluxe.com, liver of the good life, Tweeter of ridiculously delicious looking meals. Fan of both craft beer and vinegar (not necessarily together). He also appears to have an infatuation with tea that I want to dig into. Most importantly, He has built an amazing career over the last 15 years. Heiling from Portland Oregon we welcome Andy Hayes to Happen to Your Career!
Andy tells his story of making a jump to a lower paying job, not once but 3 times! Every time dropping in pay but upping his happiness. He eventually started his own business taking his skills from his past career and applying them to what he was really interested.
In this episode you will learn:
Whether or Not You have to make less money to enjoy your job
How you can avoid wandering from job to job
How to lay it all out, when you are faced with a difficult career decision
Plus Andy tells us about his love of tea and Scott asks him for some recommendations!
Links Andy Talks about
Plumdeluxe.com Andy's business that helps you make moments matter
Twitter Reach out and thank andy for being on the show!
Are you struggling figuring out what you want in your career? Learn about our FREE 8 day course that helps you avoid spending the rest of your life going from job to job unhappy. Instead, get unstuck by figuring out what you want and making a decision now. CLICK HERE
---
Sun, 7 December 2014
Career Q&A Mashup with Lisa Cummings
If you don't know Lisa Cummings, you need to! She is the multi-talented canned vegetable eating, question answering host of the Career Q&A Podcast.
Her background ranges from HR, to talent Management to Training, and much more so that when you ask her a question like... What should I do when I am in waiting mode after interviewing for an internal position... and their not getting back to me?
She delivers that answer and more in this episode/Mashup of the HTYC Meets Career Q&A Podcast!
Learn more about Lisa at PinchYourselfCareers.com or the Career Q&A Podcast on iTunes
Also learn on this episode:
When you have to have 5 or 10 (or even 15) interviews for a particular company, is this good or bad...should you be concerned about the company OR Thrilled that they are taking their time?
If you already have an idea of what your dream job may be should you jump in and go for it (even if you don't have experience) OR Should you get more clarity on it before moving forward?
Why is there so many people out there that believe that technical skills are the key to getting where you want to go?
Are you looking for clarity on your career and what you want? Take our FREE 8 Day course that helps you do exactly that AND come out of it with a decision on what your next career step should be!
Enroll at http://happentoyourcareer.com/onestop
---
Mon, 17 November 2014
The Story of HTYC with Jody Maberry
Ever wanted to know the story behind Happen to Your Career and how it was founded?
Jody Maberry from the Park Leaders Show and Maberica LLC is co hosting on the show to help provide the behind the scenes story of Happen to Your Career. Jody is a story telling expert and fan and there is no better person to help HTYC with making sure that our site and brand are dripping with not just our story, but as Jody points out in the episode, helping our Customers understand how they fit in to the fabric of the HTYC story.
He tells a couple good ones himself (just to show off a bit ;)) and you can hear it all right here or on iTunes or Stitcher
DO YOU WANT TO FIGURE OUT WHAT YOU SHOULD BE DOING FOR A CAREER?
Visit http://happentoyourcareer.com/onestop and sign up for our free course that helps you figure out what you want for your career!
---
Mon, 10 November 2014
049 Magic of Motion and How to Get it!
One of the most difficult things to do for a career change is to get started. Once you begin and start taking action over and over again, you will be surprised at the results you get
In this episode you will learn
How you can get started
why you need to act now
the psycology of being in motion
and how we applied the Toby Keith principle to our podcast at first (I know... you will have to listen to find out)
Find out more at http://happentoyourcareer.com
****Do you work in a job that you don't want to be in forever? Do you want to do work that is un-apologetically you?
We have put together a course that helps you figure out what work you love is for YOU
Visit http://happentoyourcareer.com/onestop and tell us where to send the first lesson
---