Mon, 2 March 2015
Taking Risks in Your Life and Career with Lee Cockerell
Talk about making things happen! As Executive Vice President of Operations for the Walt Disney World Resorts, Lee Cockerell oversaw 20 resort hotels, 4 theme parks, 2 water parks, and a lot more! He created Disney Great Leader Strategies, which has now trained 7,000 leaders! Now, he's turned his focus to speaking and writing on leadership. His latest book is called Time-Management Magic. Get a dose of leadership wisdom on Lee's podcast, Creating Disney Magic: Lessons in Leadership, Management, and Customer Service!
Get our FREE 8-day course and uncover the work you'll love!
---
Mon, 23 February 2015
Explaining your Career Transitions with Chris Wilson
Self-described as "the hardest working quitter you'll ever meet", Chris Wilson dropped out of college to pursue professional cycling, worked summers at his family's B&B on Cape Cod, earned his way into an online ad agency by impressing the CEO, moved into sales at Hubspot, then at Nanigans, and is now officially self-employed working on UnStuckable with friend and co-founder Stephen Warley. UnStuckable is the show that brings you "knowledge, habits, and skills to get unstuck in your career and in life".
To get our FREE Work You Love: One Stop Intro Course text "HTYC" to 38470!
---
Mon, 16 February 2015
How to Approach your Career with a Scientific Mind with Adarsh Pandit from The Reboot
Scientist-turned-management-consultant-turned-developer, Adarsh Pandit is definitely no stranger to career changes! Right now he's the Managing Director at thoughtbot, a company that designs and builds digital products. He specializes in Ruby on Rails, hosts the Reboot podcast, the show that spotlights people who've made BIG career transitions…OH! And he's got a PhD in Biochemistry too! You'll learn how to approach your career path with a scientific mind!
For help discovering the career that fits you TEXT "HTYC" to 38470 and get a link to our FREE 8-day course!
---
Mon, 9 February 2015
How to Start a Side Hustle
So you, our listeners, have spoken! You want to learn more about starting a side business. A lot of you are already in careers you're planning to stay in, but want to build something on the side, either for additional income or for the challenge and satisfaction that comes with owning your own business! We couldn't be more excited to share our journey, what we now know, AND what we've learned along the way building Happen to Your Career!
---
Mon, 2 February 2015
The Key to Selling Yourself with Jenny Foss
She's a Career Consultant/Resume Writer/Entrepreneur/Social Media Strategist/Blogger, helping people advance their careers through defining and communicating their personal brands effectively for over 4 years now with JobJenny, all while running her firm, the Oregon-based Ladder Recruiting Group which specializes in the robotics/automation and manufacturing sectors.
She's also a regular columnist on theMuse.com, knows a lot about robots, and makes a mean margarita!
---
Mon, 26 January 2015
Identify What You Really Want In Your Career- a Mini-Workshop!
Most people will never take the time to really identify what they want.
Take a listen to this workshop so that you can!
---
Sun, 18 January 2015
How to Grow Your Network without Feeling Icky with Mark Sieverkropp
Mark is a man who needs no introduction on this show, not only is he one of the cofounders of Happen to Your Career, he is an amazing networker. This guy gets chocolate sauce and free samples of just about anything you can name shipped to his door of no cost to him (seriously, not joking, that's how good at building relationships he is)
He left HTYC months ago to work on his own platform and help people work on building amazing relationships, but he's back on the show to talk to us about not only what he has going on but to share some amazing networking tips!
In this episode you'll learn
How to reach out to people in your current network if you are just beginning a business OR trying to get a new job (without the awkwardness)

Why you have a much larger network than you think you do (and who those people are)

How to network with purpose (instead of randomly)
links mentioned in the episode
Episode 6 of the HTYC podcast Matt McWilliams
Networking with Purpose LIVE Mark's massive networking event for those people that want to start businesses or network themselves to the jobs they really want
Click here to find out more about it! http://happentoyourcareer.com/NetworkingLive
How to Network it up with Mark
Sieverkropp.com Mark's website and home base
@SKropp2 Mark on Twitter (this guy is a twitter machine!)
---
Mon, 12 January 2015
How to Choose the Right Niche Business For You with Stephanie O'Brien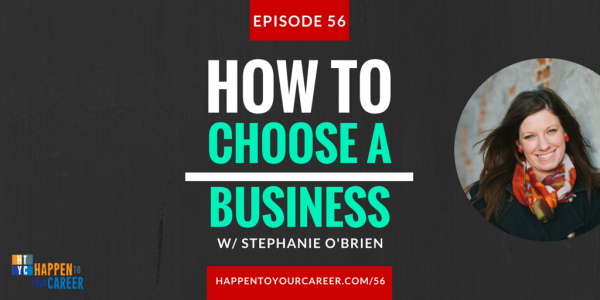 She kicked off her career as a Social Worker in Detroit. After a few years, burned out, and with over $50,000 in student loan debt, she switched gears, turning inward to discover her strengths, talents, and passions through some serious self-reflection. She made a commitment to herself, developed a plan of action, and created the career of her dreams, coaching others to achieve lives of abundance and fulfillment. She's been mentored by Dan Miller and is a certified coach in the Coaching Mastery Program with 48 days. As a career and life coach and host of the Moved By Purpose Podcast she's all about helping others find their purpose in life and applying that purpose daily in meaningful life work! Also…crunchy cookie butter!
Want to Figure out your own business Click here for our free 8 day course
---
Mon, 5 January 2015
3 Reasons Why People Can't Figure Out What they Want to Do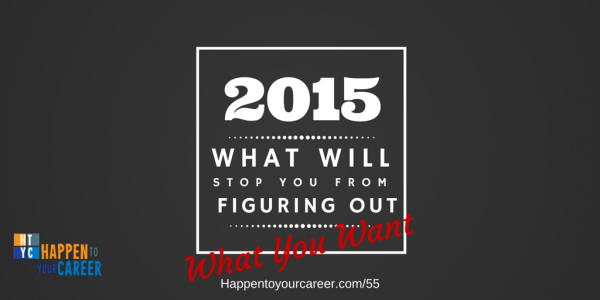 Most people won't ever figure out what makes them happy and what they want in their career.
I don't want you to be most people.
Here are three all-to-common reasons why people don't figure out what they want... and some things you can do right now to make a change.
In this episode you will learn:
Why you should commit to something even if it's not perfect (... and why it's still committing even if it's temporary)
Specific questions to ask yourself to understand what can make you happy in your career
Ways to determine something you are truly excited about
Links and Resources in this episode
Episode 26 What are your strengths- Part 1
Episode 27 What are your strengths- Part 2
Episode 28 What You Want... It's NOT what you think!
Episode 29 Do you know what YOU want in life?
Episode 31 Matching Opportunities with Wants
Episode 32 Make a Decision Already!
Also our FREE 8 day course that helps you figure out what you want and sets you up to make a decision! CLICK HERE TO FIND OUT MORE
---
Mon, 29 December 2014
How to Rethink Your Career and Revolutionize Your Life with Dr. CK Bray
He spent 15 years in the corporate world honing his expertise around organization development, leadership, and the employee development experience. With CK Bray Consulting and Development, he now specializes in career coaching, planning, and transitions for employees as well as employee motivation, development, and retention for his corporate clients. He is also the host of the Career Revolution with Dr. CK Bray, "A Place to Fix, Change, or Create Your Best Career".
He's a father of six, he's working on inventing a brand new chocolate delicacy, and at some point in the future we just might see him on TV hosting a game show or delivering the evening newscast!
In this episode with Dr. CK Bray you will learn
Why the polar opposite of what you are doing now is unlikely to be your dream job (learn from Dave the Dentist)
What Chris recommends for those wanting to start a career transition
If you are ever thinking of starting your own business, what you should think about first
Links and Resources Mentioned in this episode
Chris's website: http://www.drckbray.com
HTYC 8 day intro course that helps you figure out what you want in your career http://happentoyourcareer.com/onestop
How you can connect with Chris
Facebook: https://www.facebook.com/drckbray
Twitter: https://twitter.com/DrCKBray
YouTube: https://www.youtube.com/user/Drckbray/
Linked In: http://www.linkedin.com/in/drckbray
---